Momotaro 1st Auction of 2015e
We will have our 1th auction on Monday October 5
13:00 & Tuesday October 6 starting at AM10F00.

The auction will feature female Nisai koi. There will also be many unsexed tosai available.
The pictures and videos of the auction Nisai are online now.
This auction is a dealer auction.
Hobbiests should contact a Momotaro Koi dealer for more information on bidding.
We look forward to seeing everyone at our auction in October.



This auction 2years old are best ever for us!! So please take a look!!






A Momotaro bred Koi won the Grand Champion of the 6th Nishikigoi Home of Asia Koi Show in Singapore
In June of 2015, a Momotaro bred Koi won Grand Champion and Grand Champion B at the Singapore 6th Annual gNishikigoi Home of Asiah Koi Show.

Click here for more information.




We have started our first round of harvest for tosai culling.
This year, our first season of breeding yielded 5,370,000 fry.
From now on we will be culling everyday!

Click here for more information.




First Round of Breeding finished.
On May 12th, we finished releasing the hatched fry from our first round of breedings.
The total for this first round is 5,370,000 fry.
This year we are putting our best efforts into making as good Showa as possible.
So far we have released 3,700,000 black fry from Showa breedings.
Next month we will start culling, please keep checking back here for news.

Click here to see pictures of our main Showa parent koi sets.




3rd Annual International Junior Koi Show
Last month, at the 3rd annual International Junior Koi Show held in Niigata,
one of our koi won the Young Champion Award.

Please look at the pictures.




On April 20th we started our first breedings of the year here at Momotaro Koi Farm.
On April 20th we began breeding for 2015.

Click here for more information.




46th Combined Nisikigoi Shown
From January 31-February 1 the All Japan Shinkokai bredders association held their
46th annual koi show in Tokyo. At this show Momotaro Koi won many awards.

Click here for details and pictures of prize winning koi.




50th ZNA International Koi Show.Grand Champion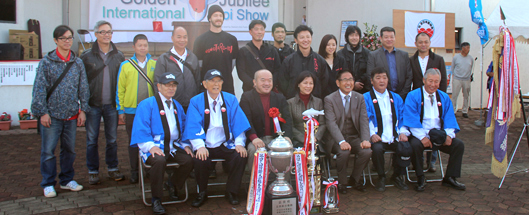 Please look at the pictures.


mudpond raised
We have harvested many of our nisai now.
So far this is our best nisai this year and maybe best one ever.
This showa is 57cm and has a very good pattern with tsubo sumi.

Baby of Black Dragon(KokuRyu) Nisai 57cm.
We will enter this koi in our November auction.


Parent Koi: Black Dragon(KokuRyu)
6 years old 90cm


¦This koi is from the same parent set as Lion Queen, but is one year younger.

Black Dragon(KokuRyu)
2years old 57cm


Completion of Second Round of Breeding
We have finished releasing the fry from our second round of spawnings.
So far this year we have made around 2,000,000 Kohaku, around 1,600,000 Sanke,
and 7,600,000 Showa fry.
We also made around 1,300,000 gin rin Kohaku fry.
We are now starting our third round of breeding.
We will try our best to make more and more great koi this season.




On April 19th we started our first breedings of the year here at Momotaro Koi Farm.
From now on we continue to breed many sets of Sanke, Kohaku, and Showa everyday.
We will continue updating on our breedings and progress throughout the year.

Please look at the pictures.




Recently there was the Second Annual All Japan Jr. Koi Show held in Niigata.
Momotaro bred Koi won 30 cm Best in Size as well as Best in size 36cm Showa.
We are happy to get continued success in Koi shows throughout Japan and the world.

Please look at the pictures.




Momotaro Koi Farm 2014 Shinkokai Awards and Appreciation Party
On Arpil 15 we held a party to say Thank You and show appreciation to our
dealers and customers as well as celebrate the awards won at the 45th Annual
Shinkokai Koi Show in Tokyo. This party was to to say thank you to every and
celebrate winning our first Grand Champion Award, as well as other awards.

Please look at the pictures.




45th All Japan Koi Show Results from Momotaro Koi Farm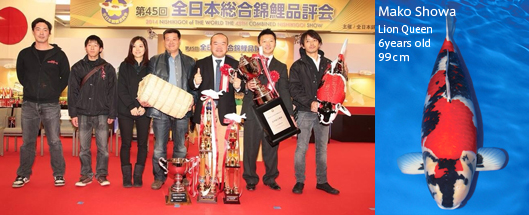 Please look at the pictures.
@



Momotaro Koi Original Koi Food.
For the last 2 years we have been using our new original Momotaro Koi Food. We can now see the great results in our koi and we can recommend with the highest confidence.
@

8 kg/ 1 box ( 2kg x 4 bags)
10 kg bag
@
For more information click here.
@



Near the end of the Third Round of breeding
We are nearing the end of the third round of breeding.
In all we have made nearly 8 million black Showa fry.
Combined we have made 10 million fry of Kohaku, Sanke, Gin Lin Kohaku so far.
From the 20th of August we will begin our fourth and last round of breeding our final parent sets.
@



End of the Second Round of Breeding
After 2 rounds of breeding we have released 6,350,000 black Showa fry.
Additionally, we have made 3,000,000 Kohaku and Sanke fry thus far.
In our upcoming third round we will continue to make more and more Kohaku and Sanke fry.
@



Start of the second round of breeding June 2013
We have started our second round of breeding here with TM Kohakuc.
one of our best parent kohaku. This year she produced 800,000 fry!
@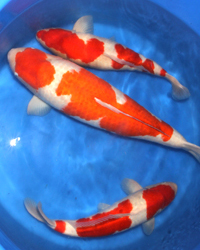 TM Kohaku~Mako Kohaku



Tosai Culling begins.
From now on we will be harvesting the baby koi for the first culls.
Everyday we will be harvesting and culling, then as the ponds open up, we will spawn more.
@



Releasing Fry
In our first round of breeding we have made 3.5 million black fry from Showa parents.
In our second round of breeding we will focus on Kohaku and Sanke while also making more and more Showa fry.
We hope to produce more than 6 million black Showa fry this year.
@



Main Parent Koi Breeding
We would like to introduce you to our main Showa parent koi.
At the February 2013 All Japan Koi Show in Tokyo,
our 5 year old 92cm Mako bloodline Showa named
Lion Queen won the Runner up Grand Champion award.
At the same koi show, we also brought another
of our best Showas for the Dream Koi Exhibition.
This koi is a 5 year old 90cm Showa named Red Tiger.
This koi was very popular and received much praise from the koi show onlookers.
@

Lion Queen
5 years old 92cm

Red Tiger
5 years old 90cm


We released the black fry
On April 25th, after a day of culling for black showa fry,
we released the black fry into the fry ponds for growing.




We start culling for keeping only black fry for Showa!!
We are trying to get more than 5million black fries for Showa in this season




We start breeding from Mako Showa
We start breeding from Mako Showa from 18th of April 2013!!!!
We will update how are going!!



1st International junior Koi Show: Young Champion
In the recent 1st International Junior Koi Show held in Niigata,
a tosai showa from us won the Young Champion award.
This koi was overall second best in the koi show.
This koi was bought at our February 2013 auction
by Narita Koi Farm.
Soon after the auction, this koi was shipped to Narita san and
skillfully raised into show form.
Thank You and congratulations to
Narita Koi farm and to the koifs owner Yuasa Noriaki. Congratulations


44th All Japan Koi Show Results from Momotaro Koi Farm
@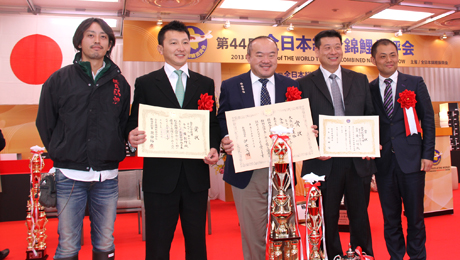 Please look at the pictures.


New Years Tosai Sale
Happy New Years.
This Year we held our annual New Years tosai sale.
We want to thank everyone for coming and making this event success.
We have many tosai available for sale now and throughout the Spring.
@
Please look at the pictures.




Here are some pictures of our 500 ton ponds here at Okayama Momotaro Koi Farm.
These are all fish born in the spring and summer of 2010,
and will be sold as nisai this coming fall and winter.
Our October 5th 2012 auction koi will be selected from these ponds.
Please see the video as well.





5,79million fries for 2nd round (Total 10,96million fries)
Kohaku 800,000 fries
Sanke 1,45million fries
Showa 1,45million fries
Goshiki 100,000 fries

Here is the photos of main parents set of 2nd round


Mikazuki ~ Tsukitsuke momoko
TM ~ Mako Kohaku
4Years Old Mako Showa(Sandan) ~ I-Showa
S-Sanke ~ T-Ryu Bloodline

2Years Old Maruten


517 flies for 1st round!!
Kohaku 1,45million flies
Sanke 1,64million flies
Showa 920,000 black flies
Ginrin kohaku 1million fries


Others 180,000 fries (Doitsu Karashi, Ogon, Doitsu Orgon)



Momotaro Main Mud pond for keeping Tosai until to 2years old.


Stared for the culling of 1st round!!
We are now in the season of our first culling from our first round of breeding.




25th April 2012 breeding start!!
We started breeding from end of April.
Main parents set
Yondan Mako 107cm x Mako Kohaku
K-Sanke 101cm x Mako Kohaku
Lion Queen 4years old 84cm(85bu champion and best in Varieties of All Japan ZNA 2011)




Momotaro Mako Kouhaku Tosai Male 38bu won Young Champion!!
The 29th Young Koi show held on 21st and 22nd of April 2012.
Momotaro Mako Kohaku male Tosai in 38bu won Young Champion!!!


The owner is Mr.Loh Yew TuckiMalaysiaj
The handling dealer is Yamakoshi Mura (Malaysiaj







2012 NISHIKIGOI of THE WORLD
At the "2012 NISHIKIGOI of THE WORLD" Tokyo convention, Was awarded a number of awards.

Please look at the pictures.




Mako Showa Progress Pictures
In an effort to better understand our Mako bloodline Showa, we would like to introduce this photo set of one of our best Showas produced here at Momotao Koi Farm. This koi was produced by pairing a Mako-line Kohaku female with our best Momotaro produced male Showa. This parent female Kohaku was selected for her outstanding body shape in hope that her offspring would resemble that bodytype but with Showa coloration.

As a tosai this koi had one of the best red patterns as well as a standout, strong type of body. After her initial winter indoors she was released into a mudpond for raising for the summer. After harvesting and keeping in concrete for a month or 2. the first picture of her was taken as a 63cm two-year old. At this point her body was one of the best compared to her siblings and perhaps even the best of all the fish produced at the farm that year. Her red and white were also outstanding but showed the potential to develop further. Her sumi was very sparse but showed hints of its future positioning. She was entered into our winter auction that year as a nisai.

The next year, 2010, this koi was kept in the 1500ton concrete pond all summer. She was a great eater growing to 77cms by the fall/winter of her third year. By this time her sumi had shown itself to be of good quality in addition to her great white and red coloration. The sumi pattern on the head developed very much as did the sumi between the second and third beni markings at her tail end. By this time we knew this fish had the pattern potential for serious koi shows throughout the world.

In the spring and summer of 2011, this showa was kept indoors in a 70 ton pond in our new house. To our delight, she grew to 84cm by November as her sumi pattern came together as hope for. The pictures of this fish do not show the height of the body top to bottom nor can we see just how contrating the colors are. In November of 2011 she went to the ZNA All Japan Koi Show
and did very well winning Best in size 85cm as well as Best in Variety Showa. This koi has the potential to be champion in Japanese koi shows in the future.The development of her sumi pattern on the head and around the dorsal fin area should be exciting to watch in the coming years. This is the
kind of Showa we are trying to produce with the Mako Bloodline Showa - a Showa with a great body and greatly contrasting. long-lasting colors.


| | | |
| --- | --- | --- |
| 2 years old@63'ƒ' | 3 years old@77'ƒ' | 4 years old@84'ƒ' |


47th ZNA All Japan Koi Show
The 47th ZNA ALL Japan Koi Show held from on 11th to 13th of November 2011.
Momotaro koi won Mature Champion by Sanke 107cm!!!
The big prize Momotaro koi won


Mature Champion
Best in Varieties of Sanke
Mr.Nobuo Takigawa (Japan)
Sanke 107cm
85bu Best in size
Best in Varieties of Showa
Mr. Joseph Wong
(Hong Kong)
Showa 4years old 84cm(Mako Showa)
Best in Varieties of Ginrin
1st prize 85bu Ginrin
Mr. Frankie Ong (Singapore)
Ginrin Kohaku 85cm
Please look at the pictures.


2011 Breeding and Culling Underway
For the last few weeks here at Momotaro Koi, we have been busy doing our first round of harvesting and culling of this yearfs tosai as well as breeding our next parent koi. So far, we have made an equal amount of Kohaku, Sanke, and Showa and hope to keep this balanced production going forward this season. Please see the pictures below for a better idea of our daily activities:



Working Towards a Better Showa: Mako Showa [Parent tree]
Throughout the koi world there are many generalizations regarding the main koi varieties. Many people would say that good specimens of Kohaku have the best bodies and the ability for a deeper but lasting red color(beni). Many would agree that Sanke can grow the longest and have the most elastic red. The generalization about Showa is that despite its striking colors, Showa often times lack the length and uniformity of its body to compete with the Sanke and Kohaku for the highest awards at the highest level. These generalizations have led us at Momotaro Koi Farm to strive to produce a new type of Showa, one with the growth ability and body lines of Sanke and Kohaku as well as an improved, even more dynamic black color(sumi).

Since 2004, Momotaro Koi Farm has experimented with mixing the Kohaku and Sanke body traits into the Showa variety. What is the best way to do this? By starting with the best body base possible, we crossed a female Mako-bloodline Kohaku to one of our best male Showa. Mako was our main Sanke parent koi from a Matsunosuke Magoi Sanke parentage, so her daughter Kohaku has the genetics for growth and girth.

From this initial spawning, the eggs and fry were few. After a summer of growing and intensive culling, only a few Showa from his crop remained. By the early summer of 2006 the best male Showa was used to spawn a Takeda-bred female Showa. At that time this male gMako-Showah showed the body characteristics we were hoping for, but the sumi was still very uninspiring. Now, in 2008 his sumi has remained unchanged but he has steadily grown in our male-greenhouse to 88cm.

The 2006 spawn of this lone Mako-Showa male to the Takeda Female was step in the right direction. Although there were not many fry produced, there were enough to get an idea of the kind of koi this new type of Showa could produce. By the time we got to the last cull of that Autumn many of these were actually sold because we were unimpressed with the sumi. Only after a winter in the mudponds and another Spring-time cull did we see the potential of these koi. The remainder spent summer of 2007 in a mudpond and were not harvested and looked at closely until the late Autumn.

By early 2008 the males and females were separated and in the spring and summer of 2008 many of these Mako-Showa males were used as parent koi. We have been impressed with the body lines and growth of these Showa as well as the bolder sumi. We hoped that with the right matches we could bring those characteristics out in our Showa tosai of 2008/09. While it may be too early to tell how great these 2008 Mako Showas will be, we are sure that we are going in the right direction. Our goal to produce Showas that have both the coloration and body to compete at the highest level continues to motivate us. Mako Showa is just beginning.



Momotaro Koi Farm 3rd Annual Koi Show Event
On November 16th, we will be holding our 3rd Annual Momotaro Koi Farm Koi Show. This event is a special thank you to our dealers and customers. The Koi for this Koi Show are from our May 2010 auction. These 60 koi; 20 Kohaku, 20 Sanke, and 20 Showa will be judged together with the champions and best in variety koi winning Bizen-yaki ceramic Pottery from the Isezaki family.
Koi judging will begin at Noon and will be followed by awards presentation and dinner.
There will be a nisai and tosai auction on the 17th of November.


| | |
| --- | --- |
| Grand Champion | Mr. Mistuzo Kaneko |


Year 2010 breeding start!!
We started breeding from 15th of April.
We are planning to produce more than last year(15million)
These are first sets.

Bentley x Ginrin Kohaku | Momoko x Red mako | Y-showa x Mako showa @



2009 ZNA ALL Japan Koi Show
On November 14th and 15th of 2009 , the Zen Nippon Airinkai (ZNA) hosted its annual All Japan Koi Show in Izumo City, Shimane Prefecture. 3 Momotaro Koi Farm bred Koi were nominated for Grand Champion with the eventual winner being a 107 cm Sanke named

gRyujinh, owned by Mr. Takigawa. The runner up champion and over 85cm class champion were also Momotaro bred Sankes owned by Mr.Takigawa.
In addition, Momotaro Koi Farm supplied the top 3 koi in the over 85 cm division, as well as many other Izumo-awards, given to special non-gosanke variety koi.

We would like to congratulate all the winners and especially Mr.Takigawa for his notable achievement.

Other measure prize we won !!


| | |
| --- | --- |
| | |
| Grand Champion Mr.Nobuo Takigawa (Shimane Japan) | Momotaro Sanke 107cm (Ryugin) |


Momotaro Koi Show Event 2008
On October 3, 2008 Momotaro Koi Farm hosted a special Momotaro Koi Farm Koi Show for koi purchased at the May 2008 auction. This special event was a Thank You to all the customers and supporters who helped Momotaro Koi Farm get back to the top of the koi industry.
The May 2008 auction fish were purchased as Tosai then all grown in the same indoor pond until the koi show event in October. The koi show was judged by special guest Mayakawa Kiyoshi, and special awards were given out by Bizenyaki gLiving National Treasureh Isezaki Jun, as well as Isezaki Shin, and Isezaki Kyo.
This Koi Showfs Champion was a Showa owned by Kepong Koi Farm in Malaysia.




We are pleased to report that a Momotaro Koi Farm bred Sanke owned by Mr. Takigawa won the 44th Annual ZNA All Japan Koi Show. After winning Reserve Champion in 2007, this koi was prepared all summer and came to the show in its best condition at 106 cm. This Sanke, named Izmo Ryu, is one of
Mr.Takigawafs many Grand Champions, and his second ZNA All Japan Show Champion bred by Momotaro Koi Farm.
Please look at the pictures.




We would like to congratulate Mr. Tepsit for winning the First Annual All
Asian Koi show with a very beautiful 91cm Momotaro Sanke. The All Asian Koi
Show was held May 2nd and 3rd in Singapore, with competitiors from all over
Asia.This is a very special koi and we are glad to see it competeing at the
what promises to become one of the best koi shows in the world.
Congratulations.
Please look at the pictures.


Study Development of Momotaro Koi Farm's Koi
Click here to read an article highlighting the changes of Momotaro Koi Farm's 2007 ZNA Koi Show Koi.


2007 All Japan ZNA Koi Show Results
On November 10th and 11th of 2007, the Japanese ZNA Koi Club held its 43rd annual Koi Show in Ojiya City, Niigata Prefecture. We are pleased to announce that a 105 cm Sanke bred here at Okayama Momotaro Koi Farm won Reserve Grand Champion award. This Sanke, owned by Mr. Takigawa of Shimane Prefecture, has reached this impressive size and is now only 8 years old.
Please look at the pictures.



The Breeding and Culling continues into August
The Breeding and culling continues here at Momotaro Koi Farm. We have many Kohaku, Sanke, and Showa growing in our mudponds now. We also have produced Ginrin Sanke, GinRin Kohaku, Goshiki, and Kumonryu. We will begin selling koi in late September. We are now taking orders for tosai, Nisai and older koi now.

Please continue checking our homepage for more updates.



Momotaro Sanke Supreme Champion at Belgium Koi Show
On June 16th and 17th Koi @ Home hosted their first Koi show. This show,
held in Belgium, attracted many visitors from all over Europe to see a great collection of top koi. We are happy to inform that a Momotaro Sanke owned by Mr. Giel Van Alphen of Vijvercentrum De Scheper, was awarded Supreme Champion. Congratulations to Mr. Van Alphen and also to Koi @ Home.
Please look at the pictures.



Attention Koi Hobbiests
Please be sure to check our agents page to find where you can buy authentic Momotaro Koi, Koi Food, and Bacteria House filter media. At Momotaro Koi Farm we work hard to make great koi. We have researched, use, and have confidence in Momotaro Koi Food, and Bacteria House Filter media. We stand behind these products and hope they will bring koi hobbiests enjoyable and satisfying koi keeping experiences.

There are many places that sell fake products using the Momotaro name, but these cannot give the best results. Please be sure that you are buying real Momotaro koi, koi foods, and Bacteria House filter media from our trusted Momotaro agents and dealers.



"Breeding Season 2007 Begins "
Since the last week of April, we have been busy breeding parent sets and nurturing fry. Already 12 sets have been successfully bred and their fry are striving in the mudponds. We expect to breed many Kohaku, Sanke, Showa, and Goshiki in 2007. gBentelyh, the winner of the 2006 ZNA All Japan Koi Show, has successfully spawned. Please keep checking this website for more updates and pictures from the 2007 breeding season.
Please look at the pictures.




We would like to congratulate Mr. Mistuzo Kaneko of Nagano Prefecture for winning Young Champion at the 2007 Wakagoi Koi Show held in Niigata on April 21st and 22nd. This koi is a 42cm Kohaku. Interestingly, this koi is a baby of another of Mr. Kanekofs Momotaro Kohakus. Both koi have great futures ahead of them.
Please look at the pictures.




From 18th to 21st of January the Zen Nihon Shinkoukai held its 38th All Japan Koi Show in Tokyo.
Momotaro koi won "Kokugyo Prize(Best in size)" 65bu male Mr.Eisaku Kato,
75bu male Mr.Togo Kanakama and also won the 1st prize 70bu Tancho Max Koi Farm.
Please look at the pictures.




From Friday November 17th until Sunday November 19th the Zen Nihon Airinkai koi club held its 42nd annual national show. Momotaro Koi farmfs customers entered a total of 10 koi ranging in size from 96cm to 70cms.
We are pleased to announce that a Momotaro bred 96cm Kohaku named gBentelyh owned by Mr. Takigawa, of Shimane Prefecture, Japan won the Grand Champion award. The Superior champion or second champion of the show was awarded to a Momotaro bred 93cm Sanke named Ryu X. This sanke is owned by Mr. Giel Van Alphen of Belgium.
More.....



37th Shinkokai All Japan Combined Koi Show. Kokugyo prize.
On January 20,21,and 22nd Momotaro Koi Farm exhibited koi in the 37th Shinkokai All Japan Combined Koi Show.
More.....