Introducing for facility of Momotaro-koi farm. Showing it by Video!!




Bred with special quality parent for producing special grade koi from over 12million fries.




Selling our own product which using it to our special koi.




about us.




Please take a look when you visit us by yourself.




Please read it before shopping by internet.




Please contact to our Agent and dealers in your country.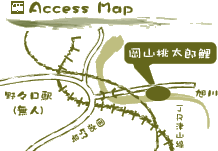 @





In the trade at first we completed 1500 ton house pond in March, 1993, almost 9 years ago, and continued to extend
facilities. In January 1997, two 500 ton ponds (2.5meters depth) were completed. In November 1999, a house pond for
the exhibition and sale were opened.
At the same time, we have added the ponds for the baby fish year by
year.Now 18 more koi ponds 600 tsubo (about 1980‡u 70cm depth) were established. Each pond is designed to be shared,
covered the bottom with sheet and spread with about 40cm thick dug mud. The unique point is the bottom is
made to be inclined and when the pipe is off ,baby koi are gathered with water into the net of the tank equipped outside
of the pond. It means no need to draw a net with several people on draining water. Also, it saves much time.
It seems a really good idea !




ĦFry pond
We have received a high valuation on the technique on raising nishikigoi, and we have made efforts on breeding for about
ten years by making fry pond. Having produced many nishikigoi which won the wonderful prizes like The National Fish Prize,
we are highly evaluated as "Momotarogoi" by many nishikigoi lovers.
Also, we established new fry fish ponds in March this year 2002.
As we had already had two
150tsubo(about 500‡u)ponds, thirteen 200tsubo(about660‡u)ponds and seven 400tubo(about 1300‡u)
ponds, we newly added eighteen 300tsybo(about 990‡u) ponds and four 600tsybo(about 1900‡u) ponds.@In addition, a facility
that can keep twelve million fry ,next to which two 1200tsubo(about 4260‡u) artificial ponds.




ĦHouse for one year old koi
A concrete pond for the strictly selected kois among the fry fish to be raised next.
There are twenty-two 20ton ponds and four 10ton ponds. After selected to this one year old house, still they have to be selected strictly.
Until the sale starting in September,
they are selected many times to be sold as carefully sorted koi.




Ħ500ton house pond
In January 1997, two 500ton ponds were completed. As well as the 1500ton pond, this pond is used
to keep mainly parents koi and large-sized koi.
After making effort strongly to breeding since about 10 years ago, to use superior parents koi since then from the many results of many experiences we have been trying to raise as good parents koi as possible.
To give a proof, we have used until now the active prize winner koi as parents.





Ħ1500ton house pond
pond has been highly evaluated because it has been widely noticed and continued to end in producing high result. This pond has been producing many prize winners and champions in the All Japan Competition ever since we made this pond in March, 1993.

On many competitions all over Japan, we often won the great prizes. We have won eight National Grand Championships during last nine years.
In particular, in January, 2002 this year, we got the General Grand Championship showing the historical over one meter nishigoi,
101cm body length Taisyo Three-colored. It was really a beginning of the nishikigoi's new era




ĦExhibition house
This house was built for exhibiting and selling koi in 11th in Heisei(=in 1999).
We have 3 ponds with 100 tons of water,and 6 ponds with 25 tons of water,and 8 ponds with 10 tons of water in this house.We mainly exhibit and sell koi of 2 years old to 6 years old.




ĦNew Tosai House
We builted it in 2004. That normally keep the Tosai which harvesting from mud pond.
All of the pond has only Bakki Shower.




ĦNew House
We builted the house in 2003. That is first our new system ponbd which only has "Bakki Shower".
We made the new system for koi hobbyist to keep koi much easier.
Because this pond haven't got filter system that only has Bakki Shower.
The Bakki Shower doesn't have to clean so, that mean is you don't have to clean anything!!




ĦMale pond House
We builted this "Male pond house" in 2004.
Normally we keep male parent koi and also high quality male for koi show in here.
This pond also has only Bakki Shower.